3 IN 1: VACUUM, MOP AND SWEEP
Regular price
€269.00
Sale price
€249.00
Unit price
per
Sale
Sold out
Description
Looking for a robot vacuum cleaner that takes care of this household chore? With the renewed CleanDays Robot Vacuum Cleaner D2-007 we take over this daily job from you!
This smart robot vacuum cleaner takes over all the work from you and vacuums, mops and sweeps your space sparkling clean. With a 2000PA strong suction power and powerful battery, the robot vacuum cleaner picks up almost every dirt and you can enjoy a clean vacuumed house every time.

Cleaner than ever
Your robot vacuum cleaner is equipped with a flat nozzle, spacious dust container and super strong 2000PA vacuum power that has a range of up to 99% of all dust on the surface. With a height of only 7.8 centimeters, the floor under tables and benches is also cleaned and pet hair, pollen and dirt residues are really a thing of the past.
With a climbing function up to 15 º
nothing stops your robot vacuum cleaner
3-in-1
This smart robot vacuum cleaner can do much more than just vacuum; you can also use it as a sweeper & mop! The robot vacuum cleaner comes with a spacious reservoir and cotton mop that retains water well and distributes it evenly.
Smart sensor
An advanced infrared sensor offers your robot vacuum cleaner excellent navigation and protects the device against collision and fall damage. This way, the device cleans efficiently without faltering and you can let the robot do its thing without any worries.
Different functions
Your new best friend is equipped with multiple cleaning functions and can be adjusted exactly to your wishes. Whether you opt for specific cleaning or a fixed program, the CleanDays robot vacuum cleaner can do it all!
→
Fixed lead time and start time
Program a start time, set off carefree and enjoy a clean floor when you return home.
→
Automatic cleaning
Choose the automatic cleaning program and lean back.
→
Edge cleaning
The robot vacuum cleaner picks up all edges and corners.
→
spot cleaning
Choose a specific spot or room that needs to be cleaned.
Long lasting battery
With a large battery capacity of 4400 mAh and an operating time of 120 minutes, the robot vacuum cleaner can handle the most spacious surfaces. Is the device empty? Don't worry, at a battery percentage of less than 20%, the device will automatically return to the charging point.
pssst... Mouse quiet!
Do you want to relax during your weekend? With a noise level of only 55 decibels, you can relax undisturbed. This way you can enjoy a clean room without any effort and you will not be bothered by annoying noises.
With Amazon Alexa and Google Assistant voice control, you can operate the robot vacuum cleaner from the comfort of your chair!
Advantages
Your benefits
With handy mopping function
Large water reservoir
Large waste container
Anti fall & collision
Mouse-quiet engine
4 different functions
including remote control
Easily climbs over low obstacles
Voice control with Amazon Alexa & Google Assistant
Powerful battery
Additional accessories and parts available separately on bol.com
Specifications
Specifications
Operating time: 90-120 minutes
Charging time: 5-6 hours
Water tank capacity: 180 ml
Waste container capacity: 600 ml
Vacuum power: 1800 PA
Battery Capacity: 4400mAh
Size: 32 x 32 x 7.8 cm
Input voltage: 7.4V
Power: 25W
Thinking time
We fully support the quality of our products and offer you a 14-day cooling-off period. If you run into problems or are not satisfied with the purchased product, we will be happy to help you and/or we will refund the purchase amount.
Share
View full details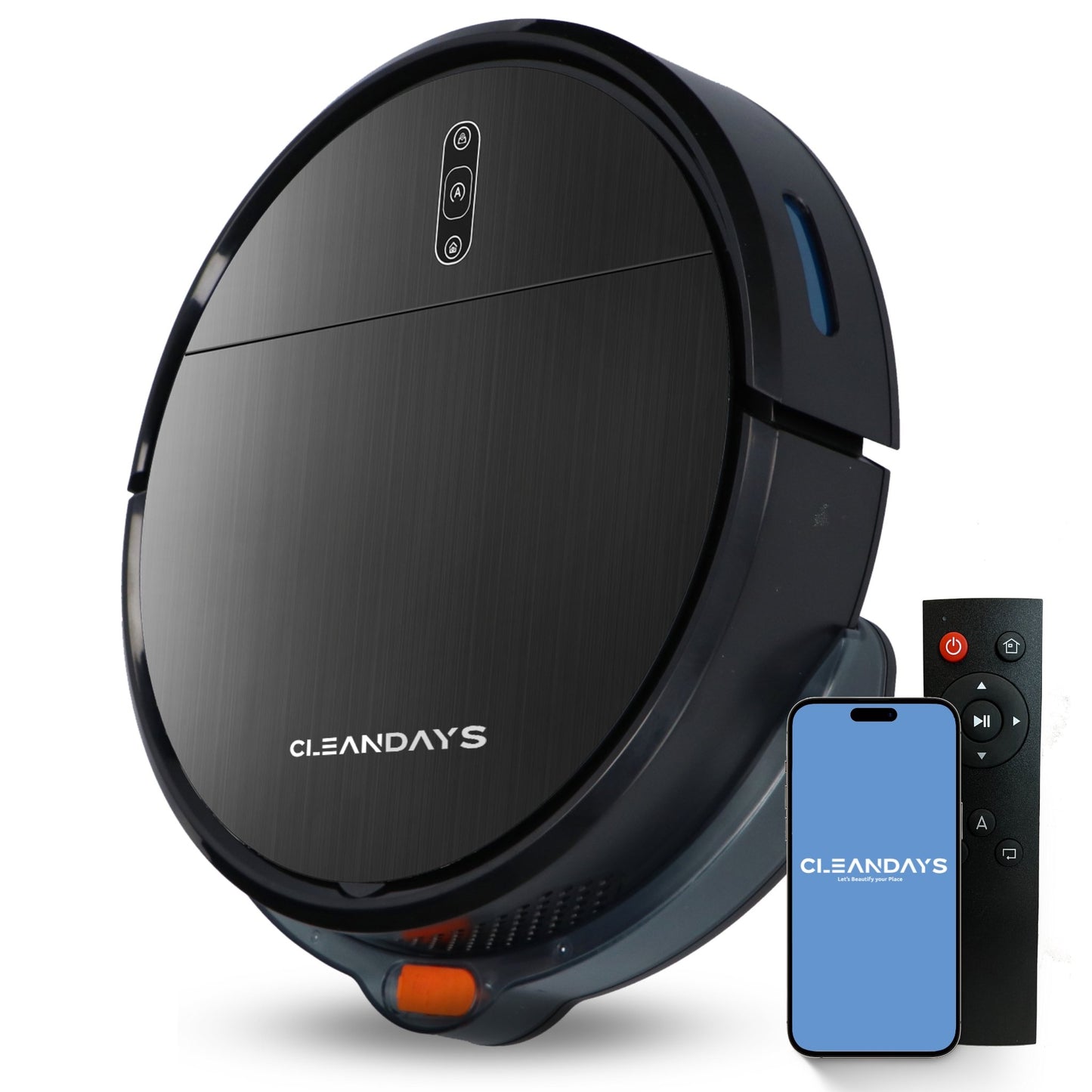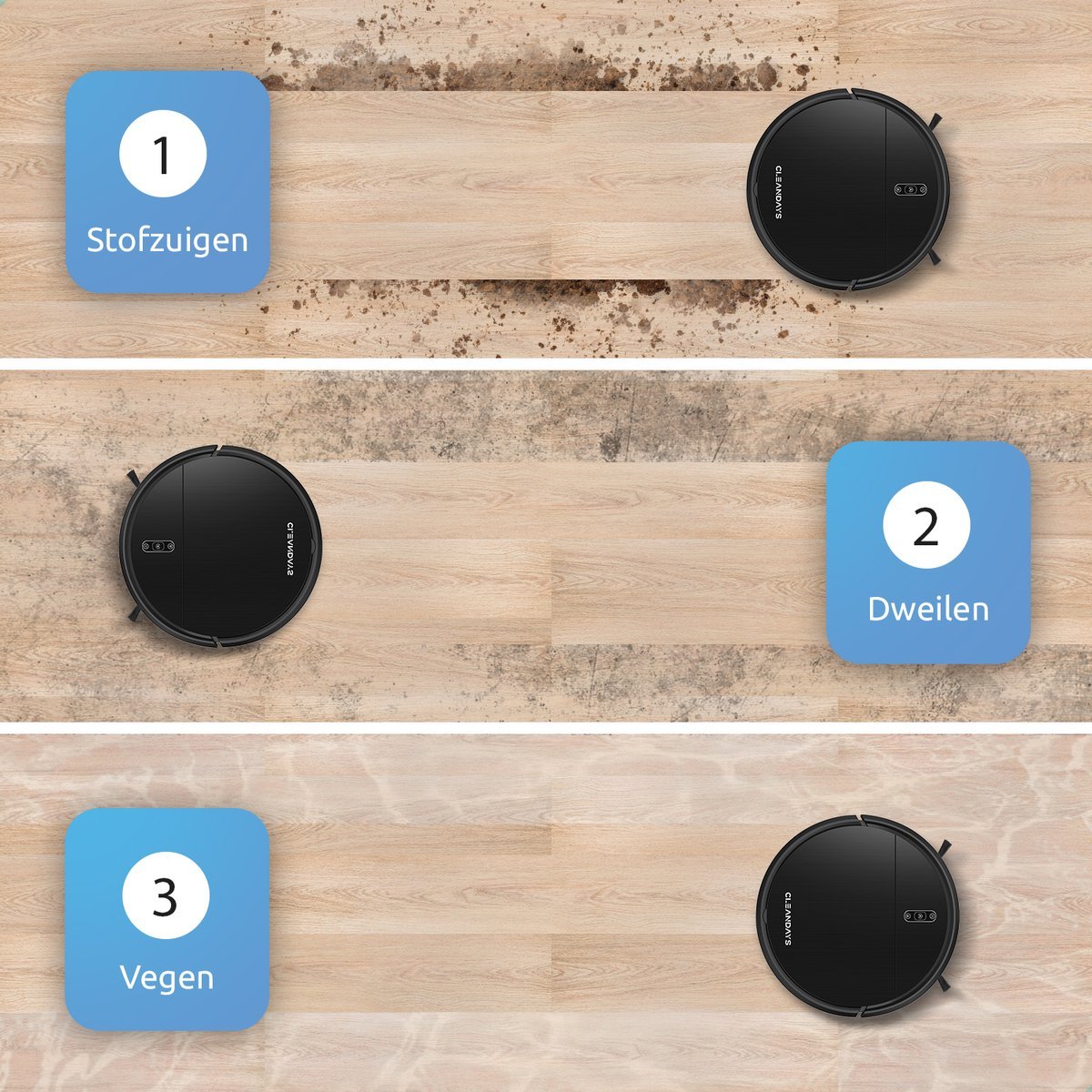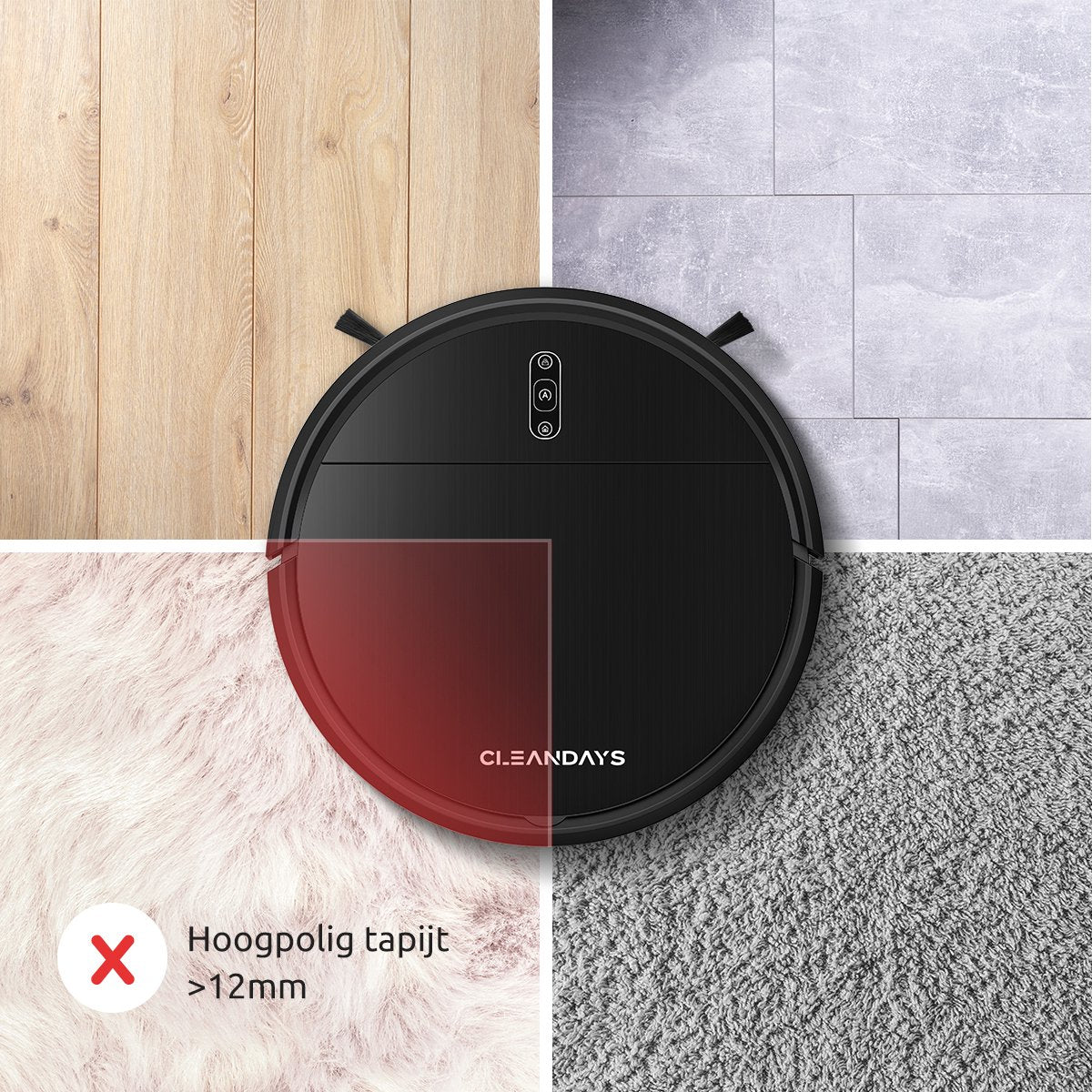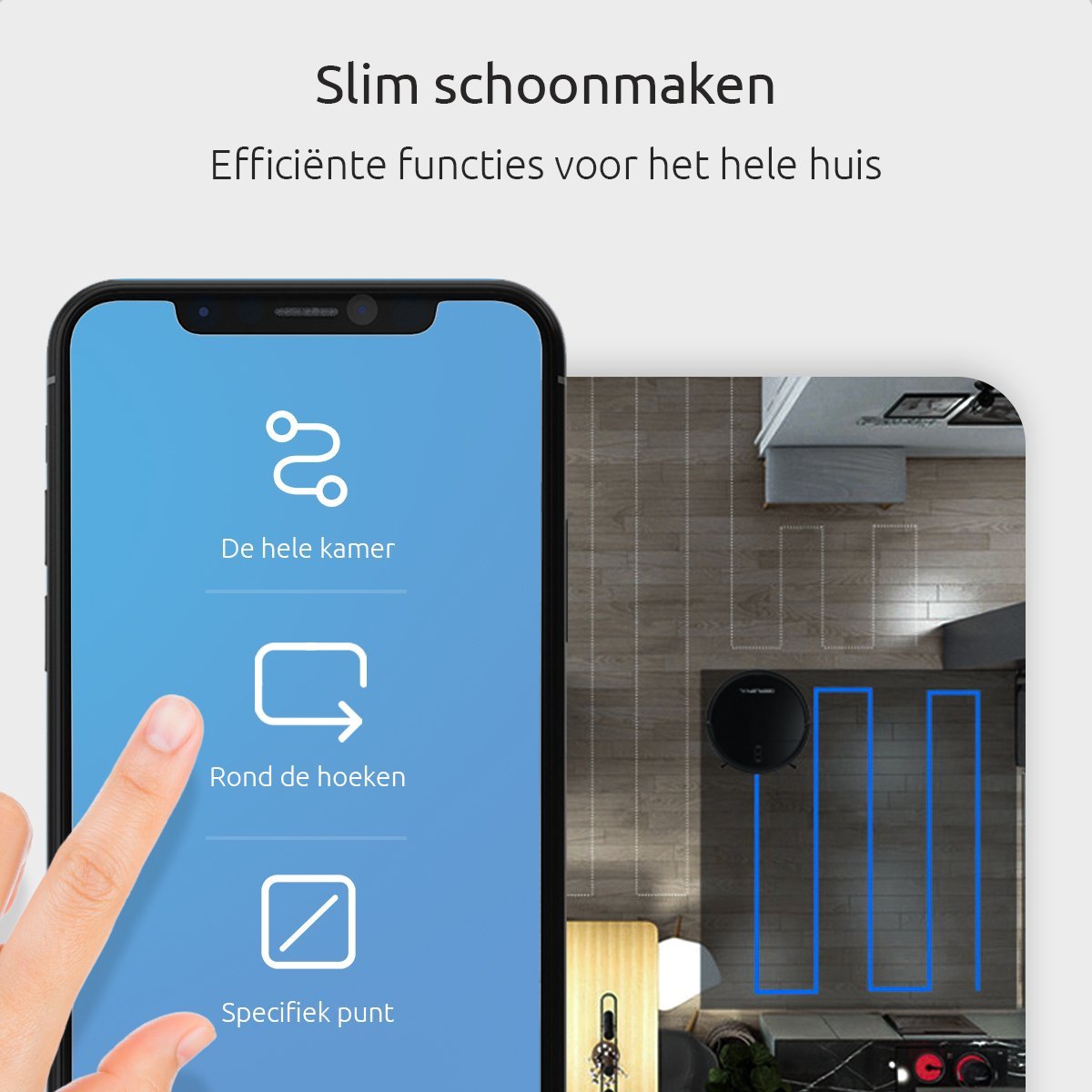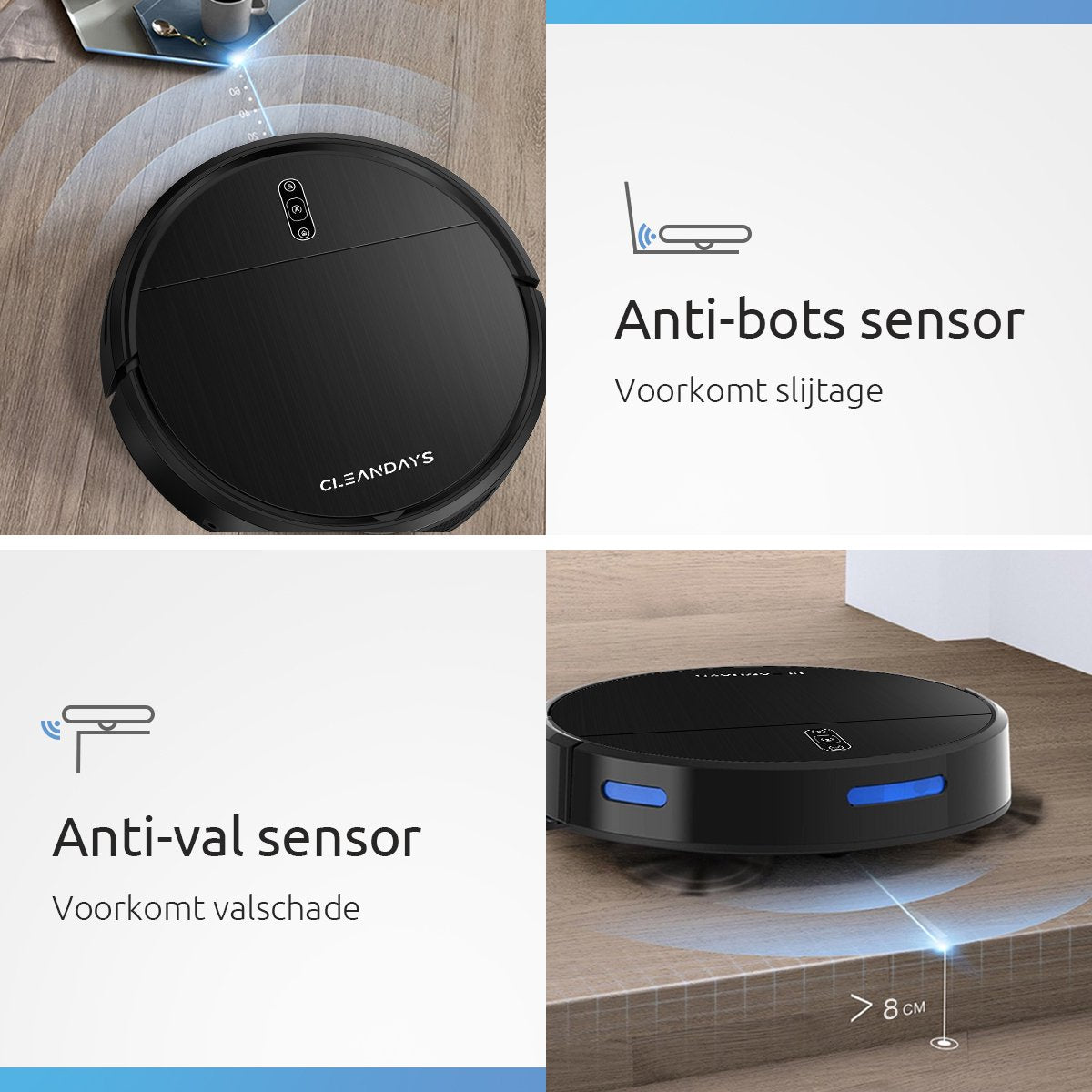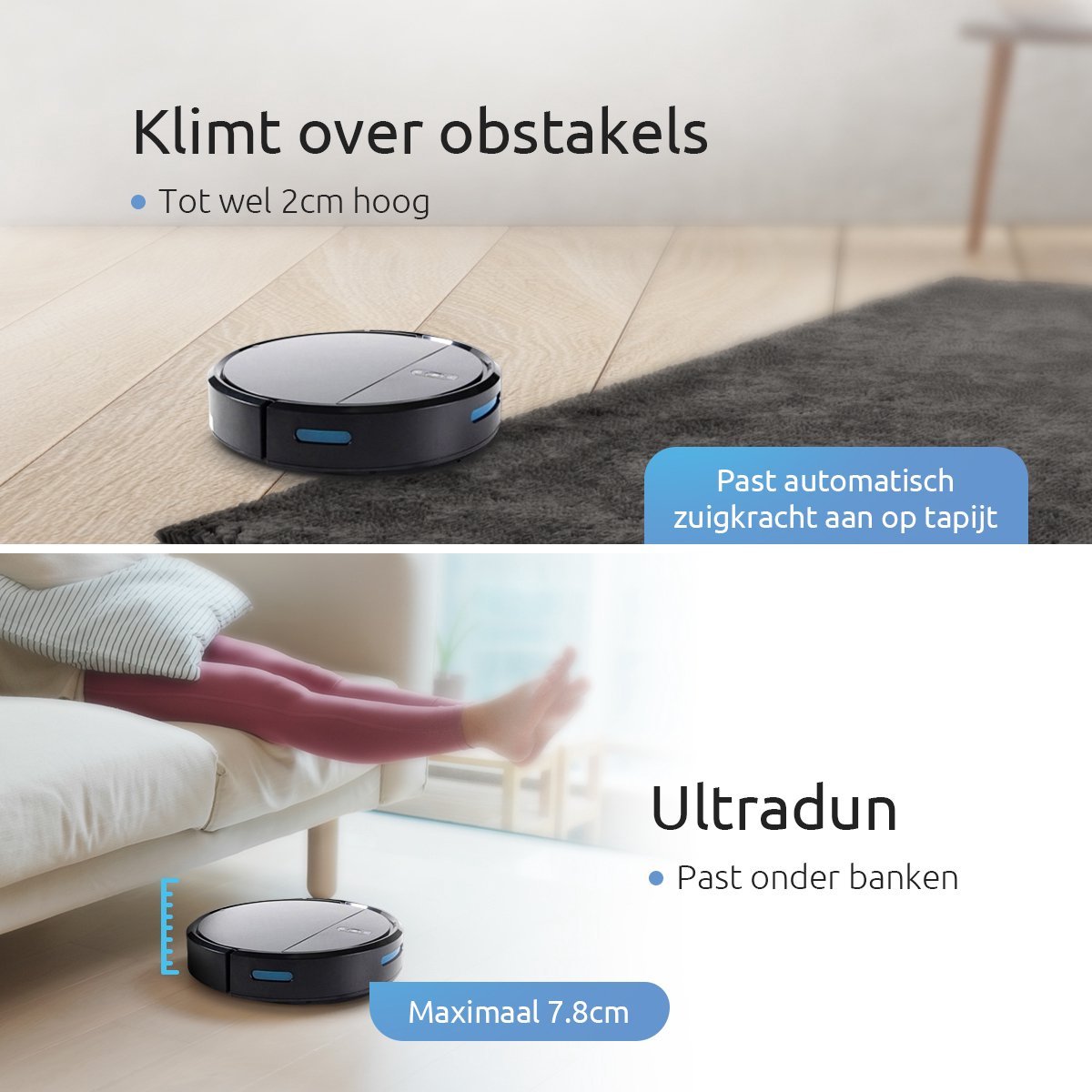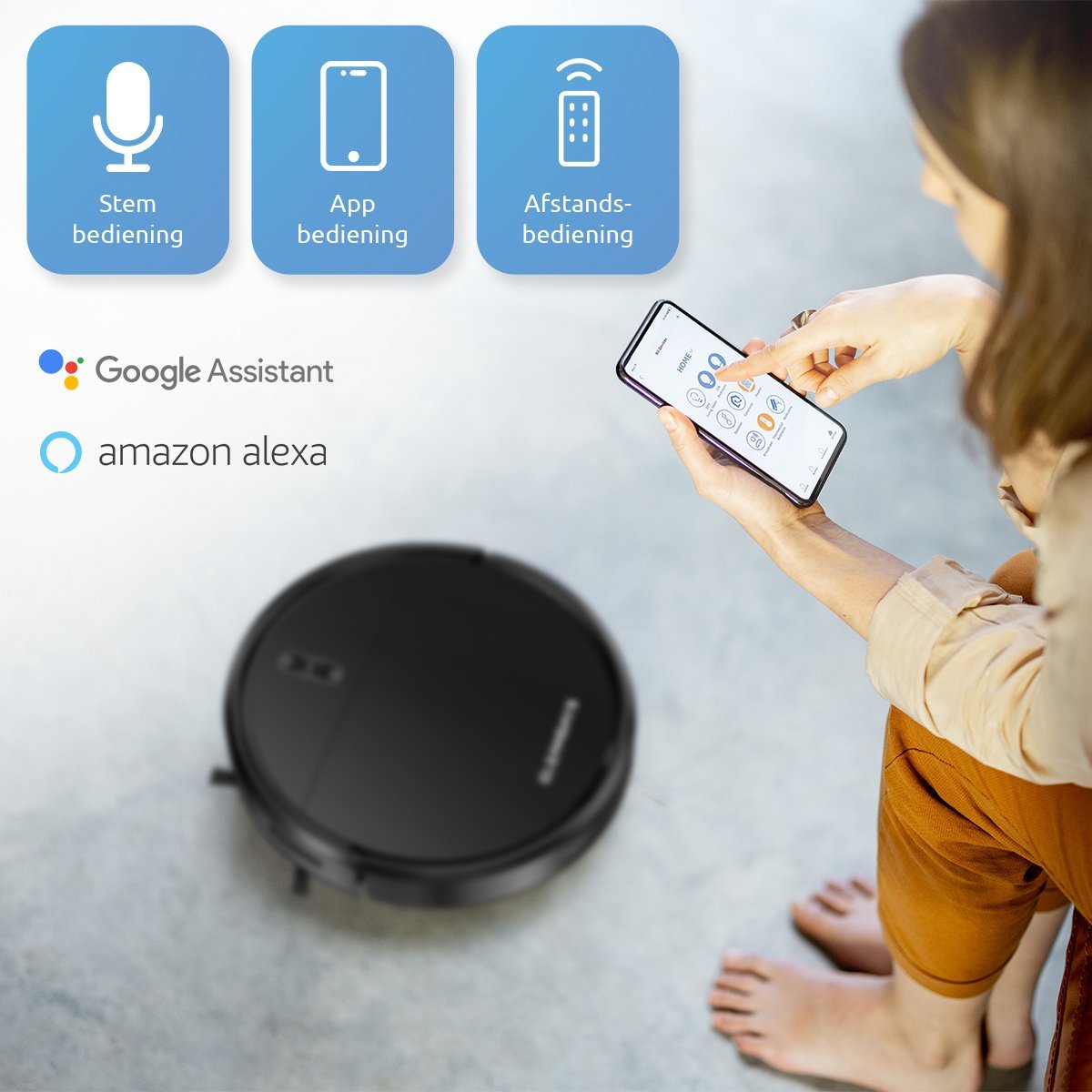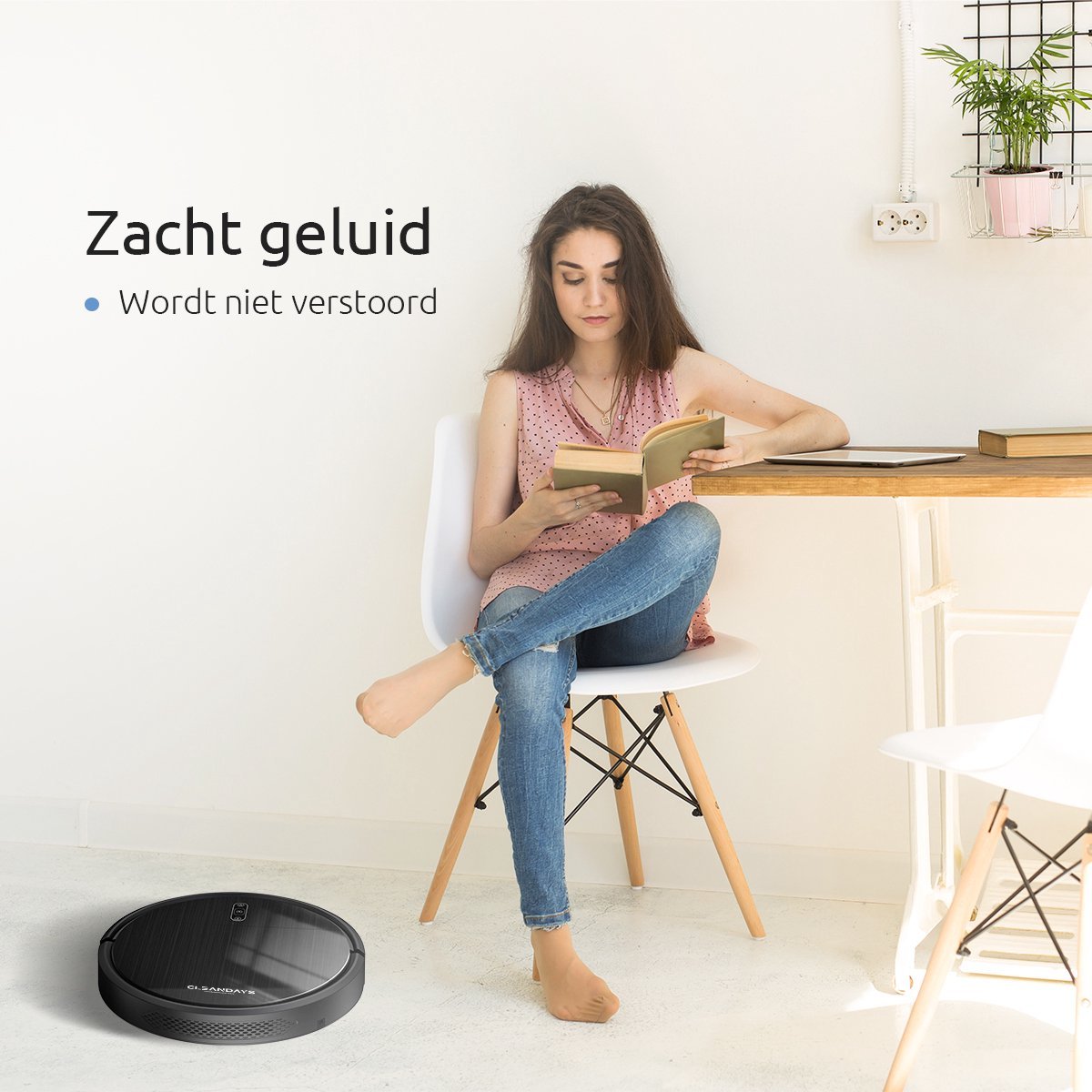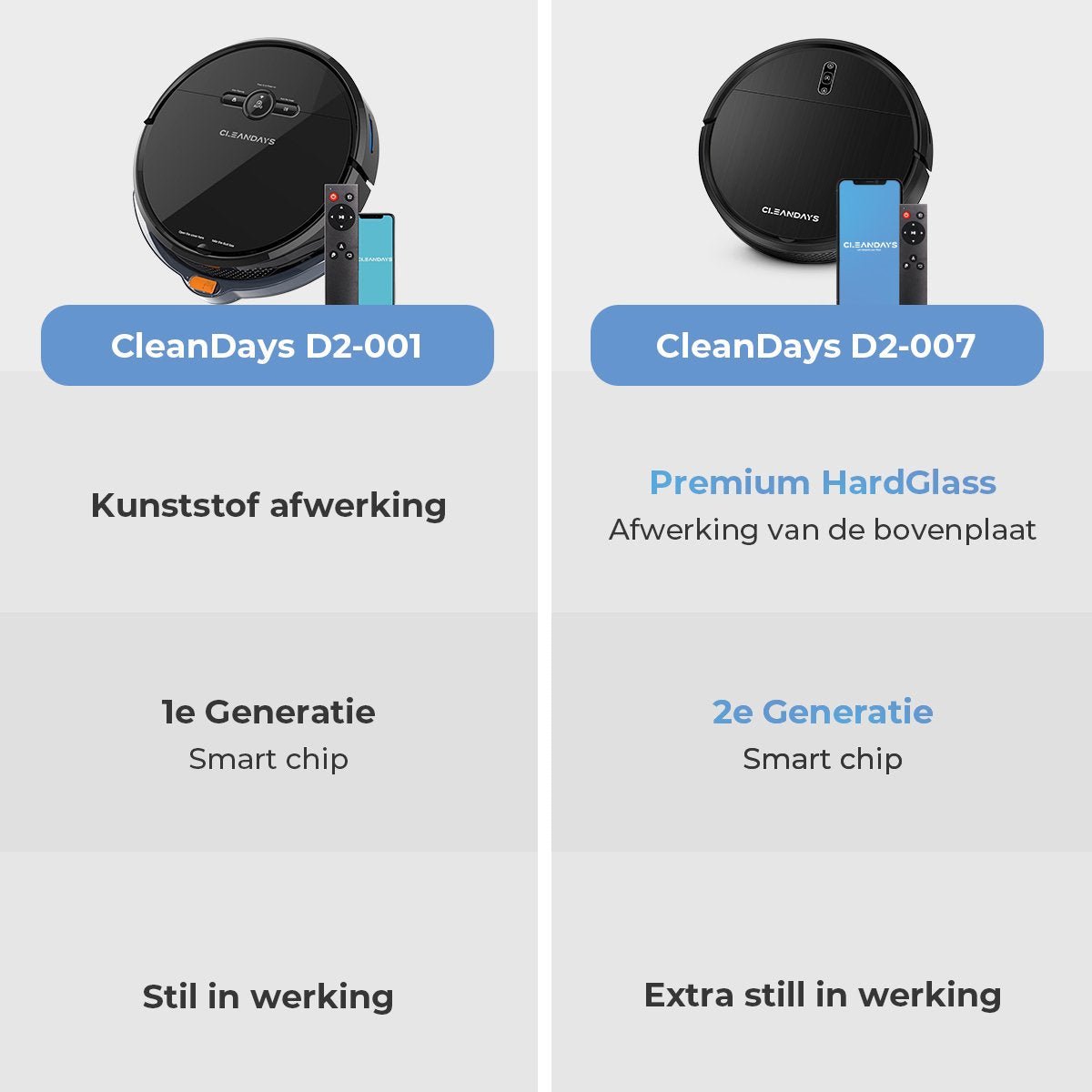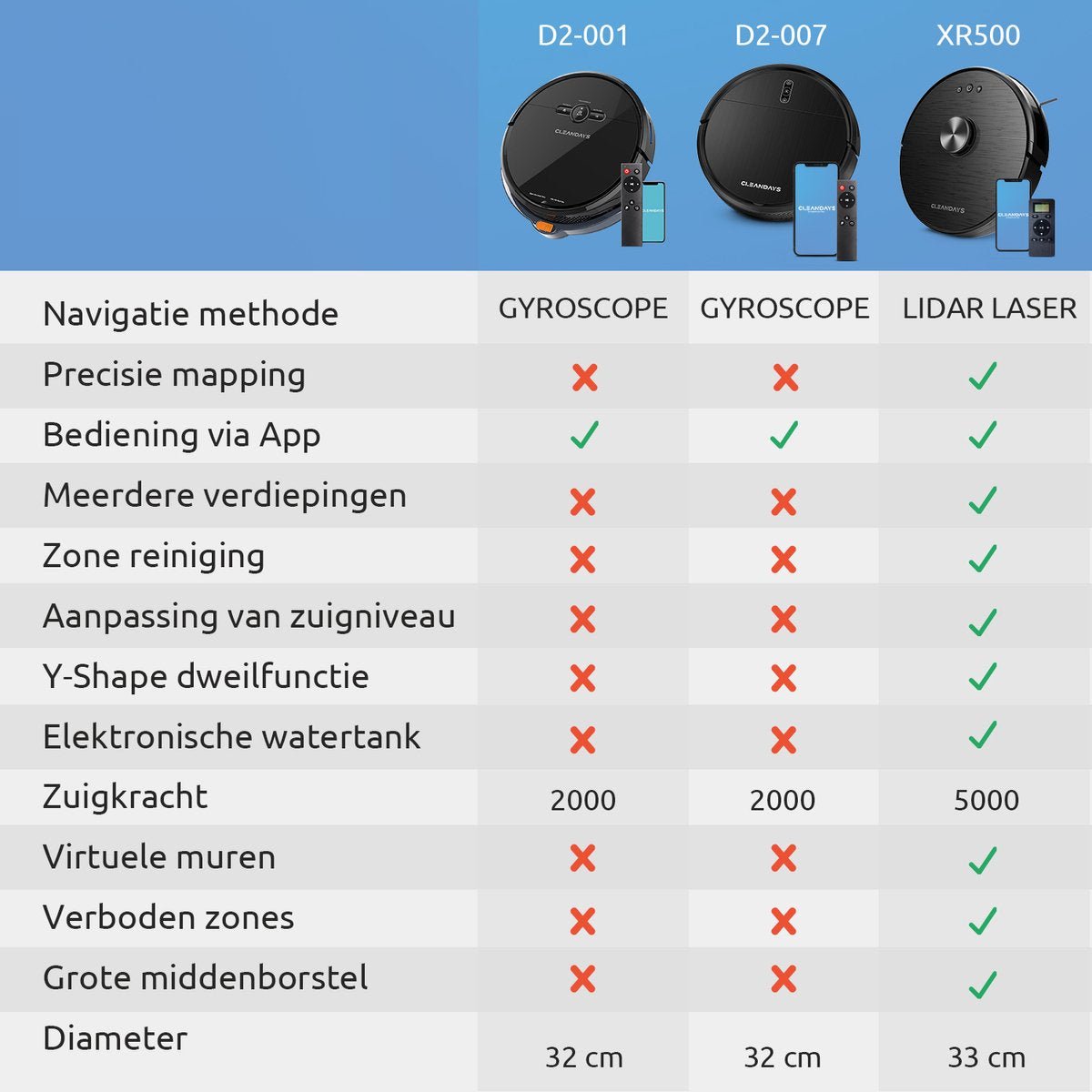 Automatically adjust suction level

The CleanDays D2-007 is suitable for low-pile carpet. This Robot adjusts its suction power during cleaning based on its surface.

Whisper quiet

With only 55dB, this Robot Vacuum Cleaner is one of the quietest in its category. This way you can follow your studies undisturbed, finish the work or just take a nice nap.

Amazon Alexa & Google Assistant

In addition to the APP control and control with the remote control, this model Robot vacuum cleaner is also suitable for Voice control. You use Amazon Alexa or Google Assistant for this, comfortably from the comfort of your armchair.
Frequently Asked Questions
What is the delivery time of CleanDays?

We use an ''Ordered before 23:59, delivered tomorrow'' guarantee. This only applies on working days. We will always do our best to ship the order the same working day. Orders placed on Saturday will be shipped on Monday. Shipping is always FREE in the Netherlands and Belgium.
Can the robot vacuum clean at night?

Yes. You can set the robot vacuum cleaner to clean at your own desired times. You can also choose to have it cleaned at night or when you are not at home.
For which floors can I use the Robot Vacuum Cleaner?

The Robot Vacuum Cleaner is suitable for wooden floors, low-pile carpet and hard floors.
Does the Robot Vacuum Cleaner make a lot of noise?

This is great. When designing our Robot Vacuum Cleaner, the possibility of dampening the noise level as much as possible has been carefully considered. We succeeded with a noise level of only 56 dB, comparable to a microwave oven. This prevents you from being disturbed by the vacuum cleaner at home.
Can the robot vacuum cleaner also go over the carpet?

This is certainly possible! The robot vacuum cleaner can only bridge low short-pile carpets up to 1 cm.
I bought the robot vacuum cleaner, but I can't quite figure it out yet.

No worries. We have listed the most common issues for you on our FAQ page.
Is the CleanDays robot vacuum cleaner suitable for pets?

Of course. Dogs and cats leave the robot vacuum cleaner alone because the robot vacuum cleaner makes virtually no noise. In addition, all animal hairs are firmly vacuumed up so that no animal hairs can be found on the floor.
Gyroscope Navigation method

The CleanDays D2-007 is equipped with a Gyroscope Navigation System, whereby the Robot Vacuum Cleaner uses various smart sensors. This allows the Robot to navigate your room without any problems during its cleaning round.
Versatile cleaning programs

Our Premium model Robot from the D2-Series is controlled via the TUYA Smart app in which many different cleaning programs can be selected, including:

* Smart - Cleaning the entire room by using, among other things, the infrared sensors every time.

* Follow wall - Thorough cleaning along the walls of your room when, for example, pet hair has blown towards the walls of your room.

* Specific point - Messed up? No problem, with this program you navigate the Robot exactly to the point where you want it to be cleaned.