3 IN 1: VACUUM, MOP AND SWEEP
Regular price
Sale price
€199.00
Unit price
per
Sale
Sold out
À la recherche d'un aspirateur robot qui prend en charge cette tâche ménagère ? Avec le tout nouveau Robot Aspirateur CleanDays D2-007, nous nous occupons de cette corvée quotidienne à votre place !
Ce robot aspirateur intelligent prend en charge toutes les tâches à votre place et aspire, lave et balaye votre espace pour le laisser étincelant de propreté. Avec une puissance d'aspiration de 2000PA et une batterie puissante, l'aspirateur robot élimine pratiquement toutes les saletés, vous permettant de profiter d'une maison propre à chaque fois.

Plus propre que jamais
Votre robot aspirateur est équipé d'un embout plat, d'un réservoir à poussière spacieux et d'une puissance d'aspiration de 2000PA, qui couvre jusqu'à 99 % de toutes les particules en surface. Avec une hauteur de seulement 7,8 centimètres, il nettoie également le sol sous les tables et les canapés, éliminant les poils d'animaux, le pollen et les résidus de saleté de manière efficace.
Avec une capacité de montée jusqu'à 15º
, rien ne peut arrêter votre robot aspirateur
3-en-1
Ce robot aspirateur intelligent peut faire bien plus que simplement aspirer ; vous pouvez également l'utiliser comme balai et serpillère ! L'aspirateur robot est livré avec un réservoir spacieux et une serpillère en coton qui retient bien l'eau et la répartit uniformément.
Capteur intelligent
Un capteur infrarouge avancé offre à votre robot aspirateur une excellente navigation et protège l'appareil contre les dommages dus aux collisions et aux chutes. Ainsi, l'appareil nettoie efficacement sans accrocs, vous permettant de laisser le robot faire son travail en toute tranquillité.
Vos avantages
Avec une fonction de serpillère pratique
Grand réservoir d'eau
Grand réservoir à déchets
Anti-chute et anti-collision
Moteur silencieux
4 fonctions différentes
Télécommande incluse
Escalade facile des petits obstacles
Contrôle vocal avec Amazon Alexa et Google Assistant
Batterie puissante
Accessoires et pièces supplémentaires disponibles séparément sur Darty
Fonctions différentes
Votre nouveau meilleur ami est doté de plusieurs fonctions de nettoyage et peut être personnalisé selon vos préférences. Que vous optiez pour un nettoyage spécifique ou un programme prédéfini, le robot aspirateur CleanDays peut tout faire !
→
Horaire de passage et de début fixes
Programmez une heure de début, partez tranquillement et profitez d'un sol propre à votre retour à la maison.
→
Nettoyage automatique
Choisissez le programme de nettoyage automatique et détendez-vous.
→
Nettoyage des bords
Le robot aspirateur nettoie tous les rebords et les coins.
→
Nettoyage localisé
Choisissez un endroit spécifique ou une pièce à nettoyer.
Batterie longue durée
Avec une capacité de batterie généreuse de 4400 mAh et une autonomie de 120 minutes, le robot aspirateur peut couvrir de grandes surfaces. Lorsque l'appareil est déchargé, ne vous inquiétez pas, il retourne automatiquement à la station de charge lorsque le niveau de batterie est inférieur à 20%.
Chuuuut... Silencieux !
Vous voulez profiter d'un week-end tranquille ? Avec un niveau sonore de seulement 55 décibels, vous pouvez vous détendre sans être dérangé. Ainsi, vous pouvez profiter d'un espace propre sans effort et sans être gêné par des bruits désagréables.
Contrôlez votre robot aspirateur depuis votre fauteuil grâce à la commande vocale Amazon Alexa et Google Assistant !
Spécifications
Durée de fonctionnement : 90 - 120 minutes
Temps de charge : 5 - 6 heures
Capacité du réservoir d'eau : 180 ml
Capacité du réservoir de déchets : 600 ml
Puissance d'aspiration : 1800 PA
Capacité de la batterie : 4400 mAh
Dimensions : 32 x 32 x 7.8 cm
Tension d'entrée : 7.4V
Puissance : 15W

Insatisfait ? Remboursement garanti !
Nous avons une entière confiance en la qualité de nos produits et nous vous offrons une période de retour de 30 jours. Si vous rencontrez des problèmes ou si vous n'êtes pas satisfait de votre achat, nous serons heureux de vous aider et/ou de vous rembourser.
Commandez votre robot aspirateur dès aujourd'hui et profitez d'une pièce parfaitement propre !
Spécifications
Durée de fonctionnement : 90 - 120 minutes
Temps de charge : 5 - 6 heures
Capacité du réservoir d'eau : 180 ml
Capacité du réservoir de déchets : 600 ml
Puissance d'aspiration : 2000 PA
Capacité de la batterie : 4400 mAh
Dimensions : 32 x 32 x 7.8 cm
Tension d'entrée : 7.4V
< b data-mce-fragment="1">Puissance : 25W
Share
View full details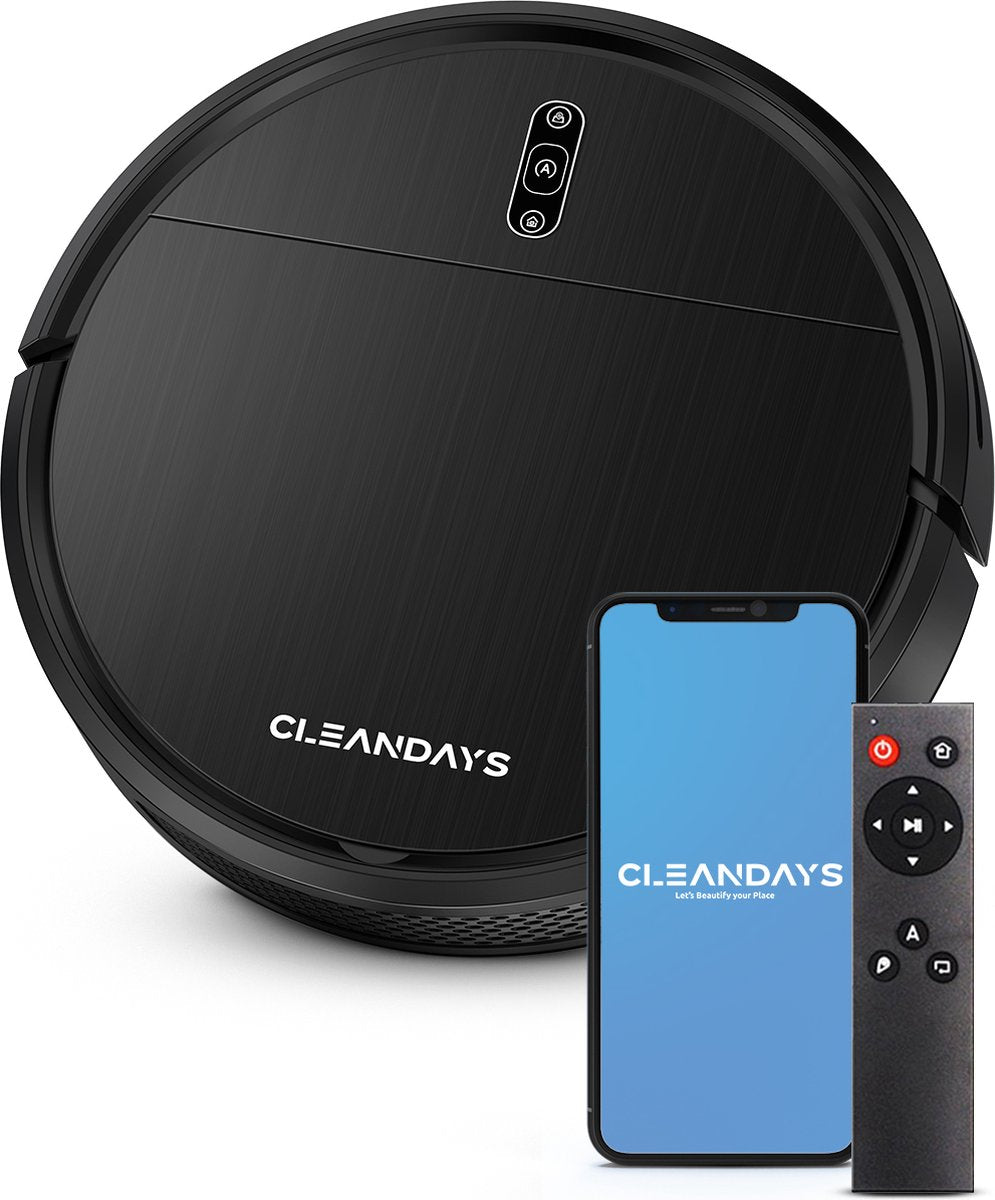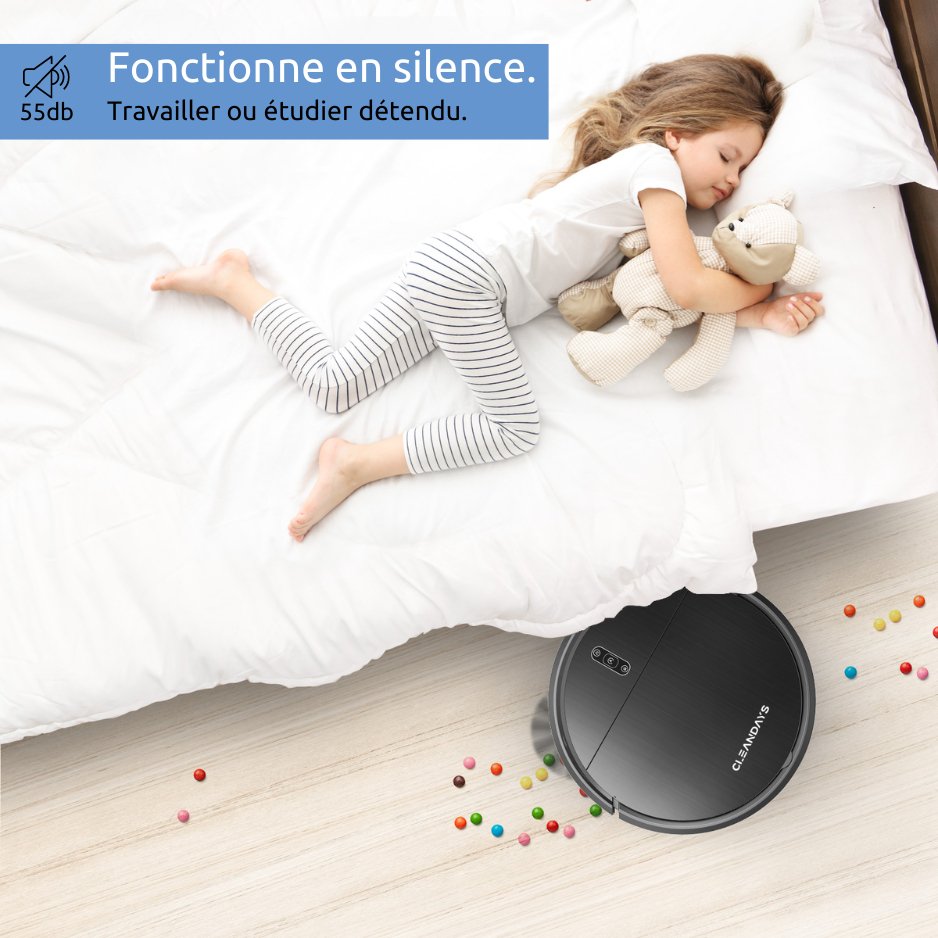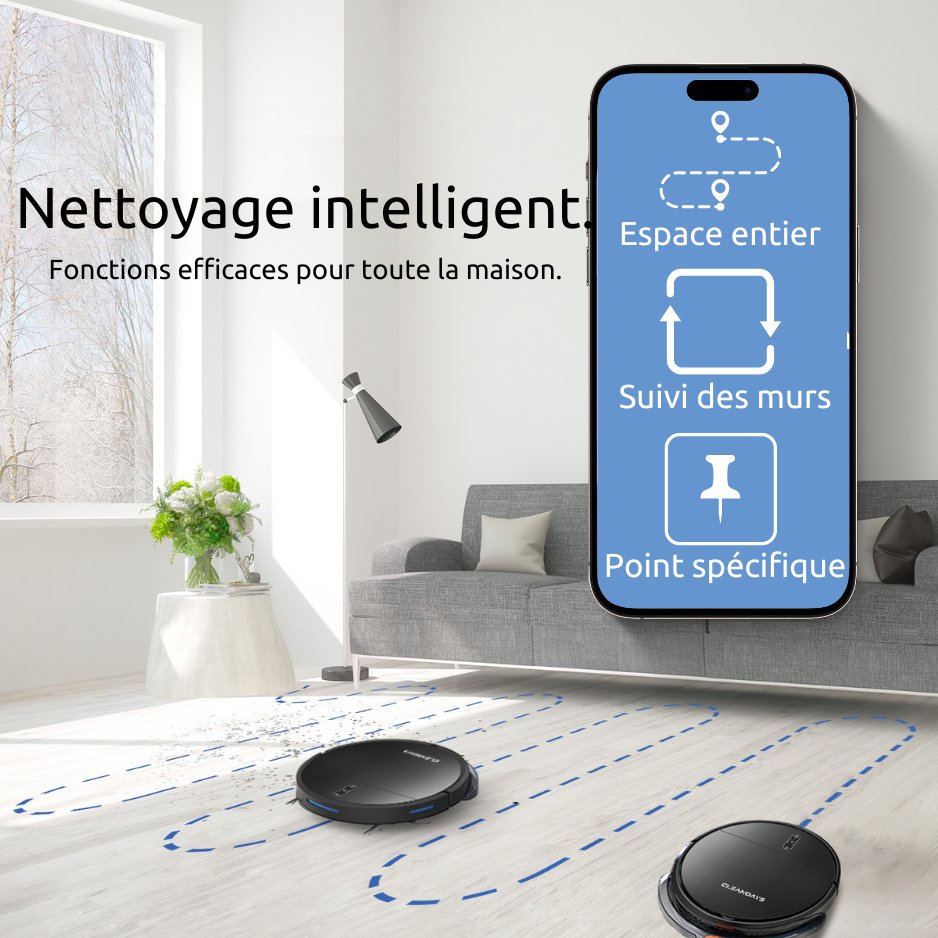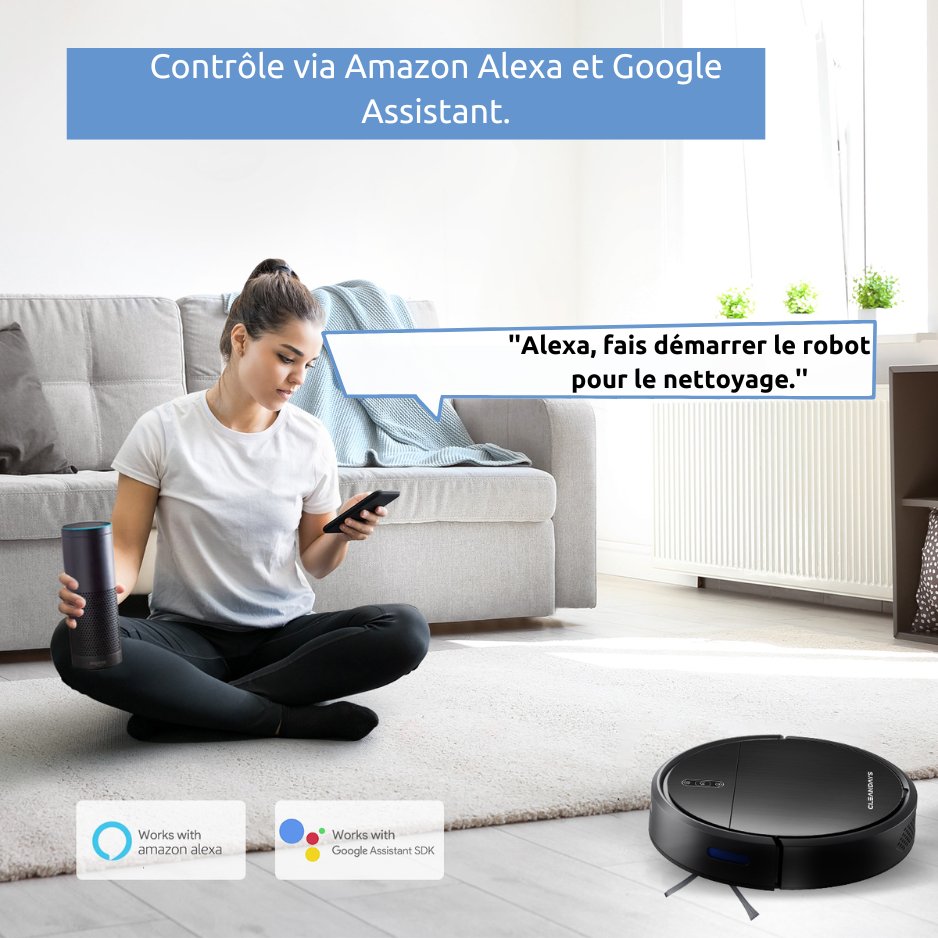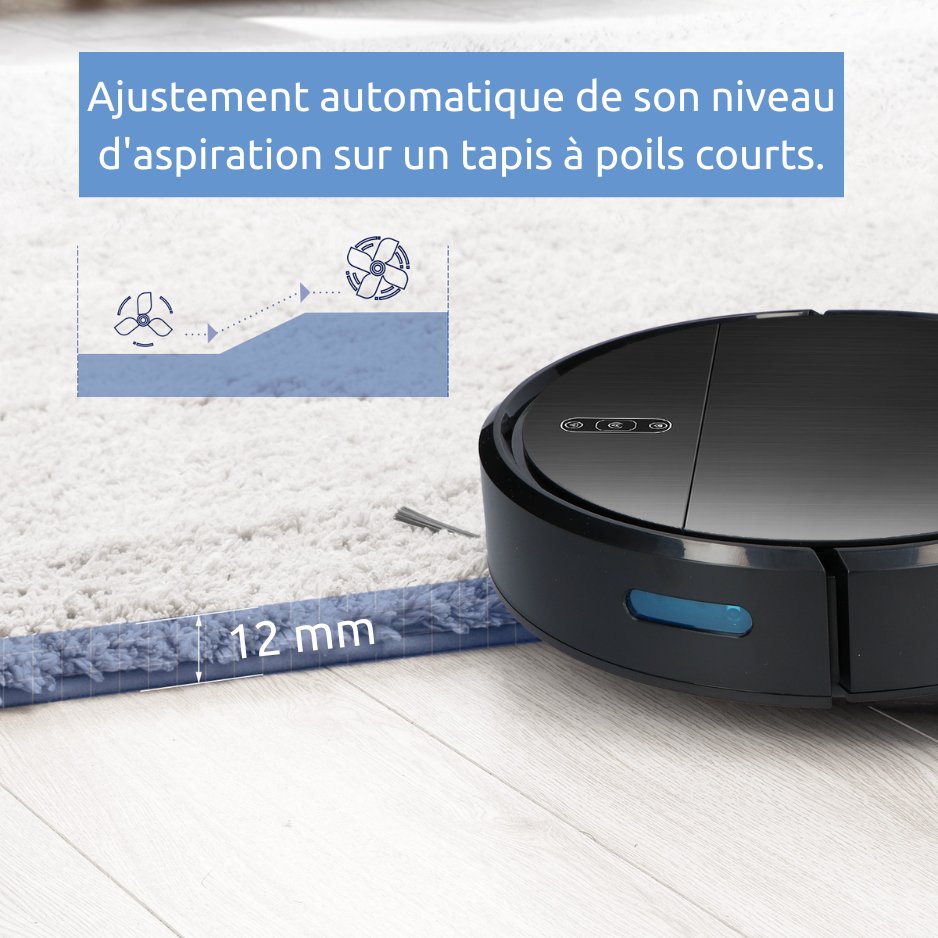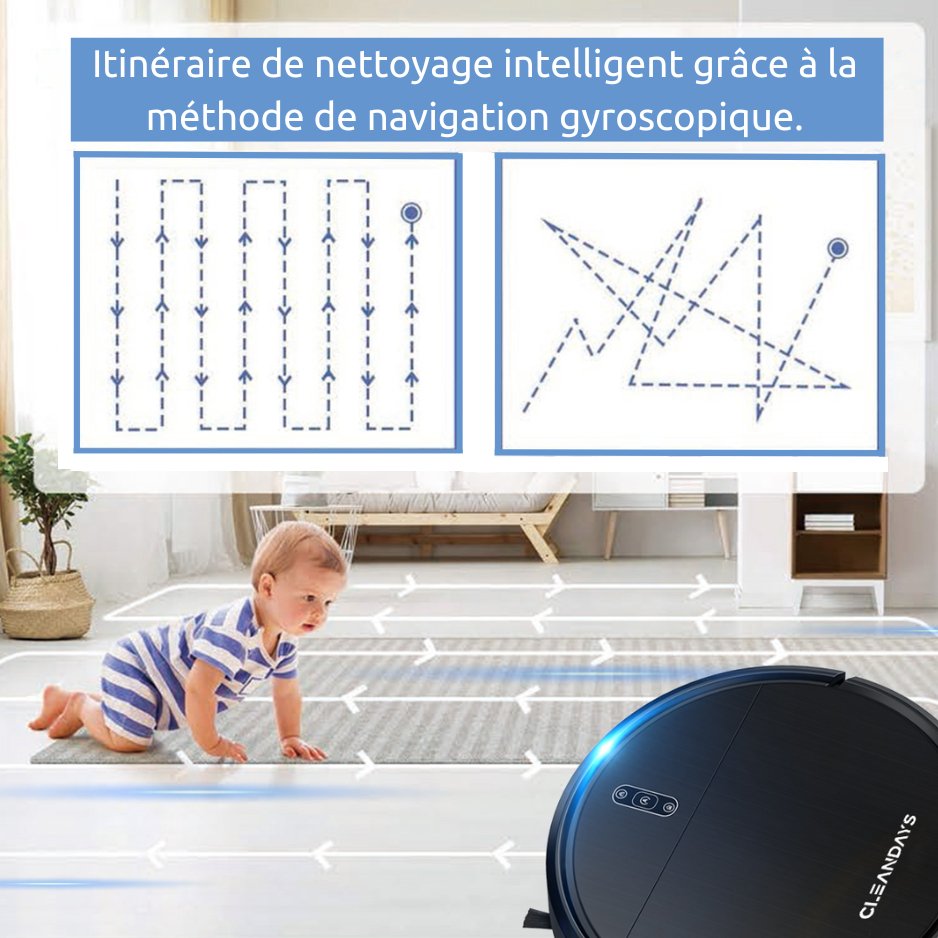 App Control

This Robot Vacuum Cleaner can be controlled remotely via the TUYA Smart app. You can also easily set all your Cleaning Schedules here, so that you can relax on the couch and your Robot takes care of your cleaning job at fixed times.

3-in-1 Formula

Always keep your home clean with the CleanDays D2-001 3-in-1 Robot Vacuum Cleaner.

Ultra-thin Design

Due to the Ultra-thin Design, our Robot easily fits under benches and cupboards.
Frequently Asked Questions
What is the delivery time of CleanDays?

We use an ''Ordered before 23:59, delivered tomorrow'' guarantee. This only applies on working days. We will always do our best to ship the order the same working day. Orders placed on Saturday will be shipped on Monday. Shipping is always FREE in the Netherlands and Belgium.
Can the robot vacuum clean at night?

Yes. You can set the robot vacuum cleaner to clean at your own desired times. You can also choose to have it cleaned at night or when you are not at home.
For which floors can I use the Robot Vacuum Cleaner?

The Robot Vacuum Cleaner is suitable for wooden floors, low-pile carpet and hard floors.
Does the Robot Vacuum Cleaner make a lot of noise?

This is great. When designing our Robot Vacuum Cleaner, the possibility of dampening the noise level as much as possible has been carefully considered. We succeeded with a noise level of only 56 dB, comparable to a microwave oven. This prevents you from being disturbed by the vacuum cleaner at home.
Can the robot vacuum cleaner also go over the carpet?

This is certainly possible! The robot vacuum cleaner can only bridge low short-pile carpets up to 1 cm.
I bought the robot vacuum cleaner, but I can't quite figure it out yet.

No worries. We have listed the most common issues for you on our FAQ page.
Is the CleanDays robot vacuum cleaner suitable for pets?

Of course. Dogs and cats leave the robot vacuum cleaner alone because the robot vacuum cleaner makes virtually no noise. In addition, all animal hairs are firmly vacuumed up so that no animal hairs can be found on the floor.
Energy efficient & whisper quiet

Not only good for the environment, but also for your wallet!

The CleanDays D2-001 is designed to be very energy efficient. Good for the environment and, not unimportantly, your wallet. This model Robot vacuum cleaner has a long battery life and automatically returns to its charging station after cleaning. Moreover, this Robot is whisper quiet despite its 2000PA powerful suction motor. During cleaning, the CleanDays D2-001 Robot Vacuum Cleaner does not exceed 55 decibels, so you can work undisturbed at home or relax completely.

Whisper quiet
Energy efficient
2000PA powerful suction motor
Smart Sensors

An advanced infrared system offers the CleanDays D2-001 excellent navigation and protects the device against collision and fall damage.

Hard floors & Low pile carpet

The CleanDays D2-001 cleans your entire room in 120 minutes with the 4400 mAh powerful battery.

Suitable for most floors

The CleanDays D2-001 is suitable for most floors, such as Wooden Floors, Hard Floors and Low Pile Carpet.

Many operating options

The Robot can also be operated with Amazon Alexa & Google Assistant Voice Control. Make the Robot start and stop using just your voice command.